The Weisstronauts
Control Is In Your Command:
The Best Of: 1999-2012
Deluxe 12-song vinyl LP
$20

After five full-length albums and three EPs, along with a bevvy of compilation tracks and other rare gems, the Weisstronauts have pulled out the stops and compiled their absolute best music in a super-lavish, lovingly-assembled collector's package.

Included for the purchase price is a 12-song LP, pressed on heavy vinyl. The recordings were completely remastered from the original mixes, specifically for the vinyl medium and cut by Jeff Powell on the original Stax lathe (finally, we have a single degree of separation from Isaac Hayes, Booker T & the MG's, Big Star et al...) at Ardent Studios in Memphis. The gorgeous, heavy-stock gatefold jacket was designed by the amazing graphic whiz Jeff Mellin, based around an amateur painting of a spaceship, found by 'Nauts guitarist George Hall. The jacket opens up to reveal a collection of 'Nauts photos, credits, and anecdotes.

To sweeten the deal, the first 100 copies include a unique piece of original artwork, created and signed by a band member. These range from line drawings, caricatures, and crayon sketches, to well, more elaborate fare. You don't get to choose your artwork, but you can rest assured it will be absolutely singular.

Finally, the package comes with a companion CD that contains all 12 songs from the LP, as well as 15 (yes, "fifteen") additional songs from the Weisstronauts' canon. All of these were also completely remastered from the ground up, and sound better than ever.

Die-hard completists, please note... This collection contains TWO previously unreleased Weisstronauts songs, "Handball!" (a live favorite, especially when performed in supermarkets) and the band's rippin' take on the Bubble Puppy classic "Hot Smoke & Sassafras." The latter features the great Mitch Easter guesting on lead guitar and electric sitar and was mixed by the legendary Roger Bechirian (Elvis Costello, Squeeze, the Undertones, etc.) Speaking of Roger, he also deftly remixed "Perky" for this collection, giving it more power and atmosphere than its original 2005 mix.

"I'd be lying if I didn't say that my initiation into the Weisstronauts brotherhood was preceded by some measure of consternation. After all, most of their tunes consist of more than 3 chords played by uber-accomplished musicians. Any anxious feelings were soon put to rest by not only the title of the first song in the rehearsal, "Tabasco Fiasco," but the zen-like patience of the band. I was grateful to be among a sublime group of musician whisperers. At home, safe, at ease, rocking the crap out of it."
-Neal Spaulding (bass, 2008-present)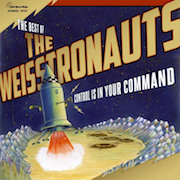 Side A:
Get It Together
Fibonacci
Fruity
Handball! (previously unreleased)
Psychedelic Whiplash
Tabasco Fiasco


Side B:
Jet Pack
Hoopin'
Hot Dog City
Sunburn
Topaz
Perky (2011 Roger Bechirian remix)


CD Bonus Tracks:
Timmy The Smelter
Caixa Dos Moluscos
Jaunty
Mornin' Ma
Bentley
Last Train To Shartlesville
Odysseus Goes To America
Chicky
Sunsetty
Hot Smoke & Sassafras (previously unreleased)
Cha Cha Ho
Thrifty 2
Pleasant Valley Sunday
Exit Sandman
Movin' Ball