Pete Weiss &
the Rock Band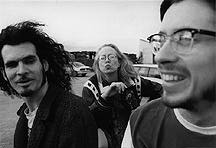 Specialized in "rock" music
1995 - 1999

---
Meet the Band

News

Songs

Recordings

Gigs Archive

Pics & Video

---
[Please note, in the interest of nostalgia, we are doing our best to keep this site informationally up-to-date, yet visually as it was in the late 90's, when PW&RB was most active.]

Pete Weiss & the Rock Band, specialized in "rock" music from 1995-1999 and garnered worldwide praise for its sprawling, unorthodox self-titled debut album. The band played its last official show on November 5, 1999 and released its farewell CD, "We're An American Band" in February 2000.

In the fall of 2012, the band reunited at Verdant Studio to record a 10-song album, "Sex Contest". Learn more about it on the News page or visit the band's Facebook page for the latest updates.

PW&RB reunited for a one-off show, October 13, 2013 at Radio in Somerville, MA. Details at the Facebook event page.

For the latest in what Pete Weiss is up to, visit Weissy.com.
web pages by MuseArts, Inc.